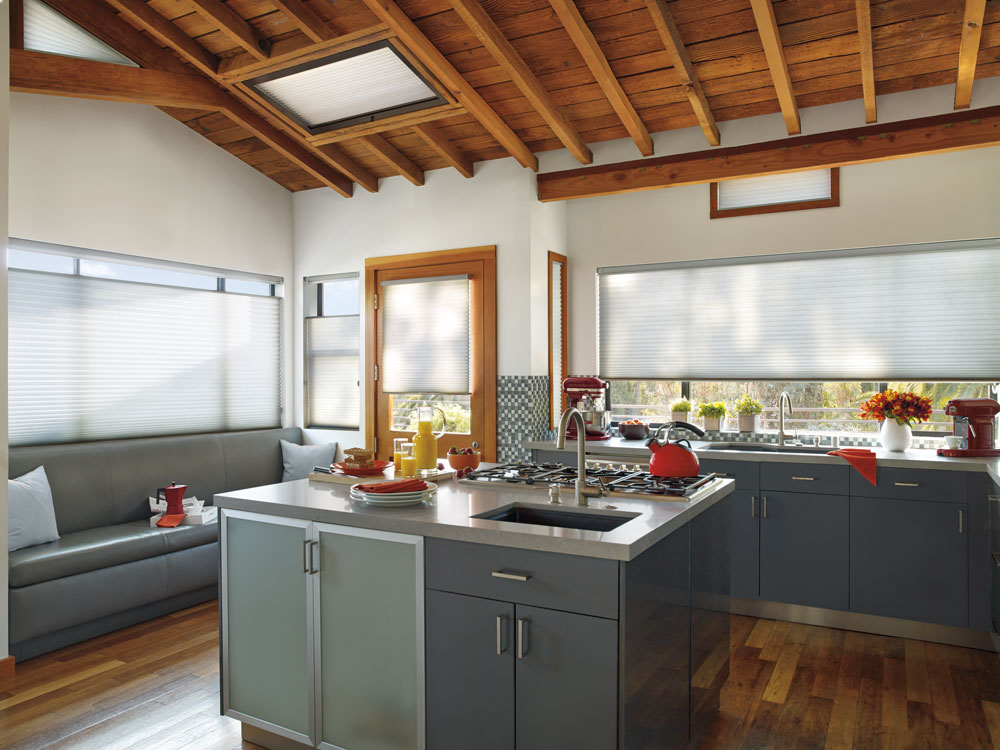 High-Quality Window Coverings
Arrowhead Floor & Window Coverings in Blue Jay, CA offers a full selection of products. We have a wide range of window coverings that vary in style and functionality.
Our Hunter Douglas designer screen shades come in two styles. Roller shades are made of fabric that easily rolls vertically, so these are ideal for large windows. Roman shades are just right for small windows and have fabric that creates soft folds. You can enjoy these features with our designer screen shades:

They have effective UV protection to shield your furnishings from harmful rays.
The fabric-wrapped cassette can provide you with a sleek and streamlined look. This option is available for both roller and Roman shades.
The Choices program gives you creative leeway to design one-of-a-kind windows. You can combine either contrasting or complementary fabrics that will be used on the cassette, valance, or bottom rod.
Apart from their durability, designer screen shades can be easily cleaned. They are resistant to dust and dirt, making them ideal for kitchens and other potentially messy areas.
Set your preferred environment by choosing from different styles, such as romantic, contemporary, casual, and traditional. There are many ways to customize your draperies using tassels, hems, tiebacks, and decorative cording.
We proudly carry Duette® honeycomb shades that offer variety in terms of colors, prints, fabrics, textures, opacities, and operating systems. The newest innovation of Duette®, the Architella® Collection, features shining colors and authentic, crisp pleats. Also, the sophisticated, patented design of these shades comes with three distinct air pockets that promote energy efficiency. Enjoy the following features with Duette® honeycomb shades:

Our honeycomb shades can be constructed in single, double, or triple layers. The patented Duette® Architella™ is a state-of-the-art "honeycomb within a honeycomb" that other brands do not offer. In addition, we have the SofTrak system that comes in six colors and delivers precision in terms of functionality and performance.
We also offer a proprietary 1 ¼-inch pleat, the only honeycomb shade that offers this size.
We have sheer, semi-sheer, opaque, and semi-opaque fabrics for light control and privacy. Our privacy sheers come in many colors and fabrics while having translucent or room-darkening options.
Honeycomb shades are long-lasting and relatively easy to clean.
The revolutionary Luminette® product combines the elegance of sheers with the privacy of soft draperies. Privacy sheers have fabric facings that are attached to fabric vanes. They can be rotated up to 180 degrees for light control and privacy. Here are the features of Luminette® Privacy Sheers:

The SofTrak™ Headrail comes in six colors and offers maximum function and performance.
Manhattan™ Decorative Hardware gives the privacy sheers a sophisticated style. You can choose between smooth or fluted rail styles, as well as three final design options.
The sheer fabrics, valance, and vanes are made of 100% polyester. This allows the shears to be durable, as well as resistant to wrinkling, mildew, and abrasion.
Our privacy sheers feature opacity options in case you want to control the darkness of your room. They also come in a variety of colors and fabrics.
These automated window treatments are known for their convenience, versatility, security, and efficiency. We only carry top brands of motorized window treatments, including Hunter Douglas, Graber, Skandia, Century, and Insolroll.
These shadings are set to redefine the standards of the window fashions industry. They are made of soft, horizontal fabric vanes that are attached to a single sheer backing. This setup allows you to have an enhanced view outside, as well as a beautiful fabric appearance inside—the best of both worlds!
Pirouette® Window Shadings are made of outstanding materials and have more options compared to other window shading brands. Here are some of their amazing features:

The Invisi-Lift™ system offers precise light control and allows the horizontal fabric vanes to gracefully float in the window.
The single operating cord allows you to adjust the shadings for privacy, viewing, and light control.
These shadings can provide you with different kinds of views. Flatten them for a smooth, contemporary finish. Raise them slightly for a gentle, contoured look. Fully open them to have a clear view outside.
The sheer backing filters UV rays and reduces glare. Up to 86% of rays are blocked when open, while 99% is blocked when closed.
These shutters belong to an elevated class and provide a sense of timeless charm to every room in your house. Enjoy the following features with Heritance® hardwood shutters:

Made of pure, seasoned hardwood, these shutters provide enduring warmth and natural beauty to your home.
They offer the largest color selection in the entire industry. Choose between 100 standard colors, including 67 artisan paints and 33 rich stains, without any surcharges. In addition, you have the option to customize your own color by matching different paints and stains.
The Integra™ finish, a multiple coat process, provides long-lasting protection.
The Truemill® dovetail joinery is one of the oldest and most reliable forms of woodworking joinery. It is revered for its exceptional craftsmanship and durability.
Three louver sizes are available to give you different viewing options. Our biggest size is 4 ½ inches.
These hardwood shutters can be custom-made to fit different kinds of French doors.
They offer the most extensive selection of specialty shapes and can cover virtually any kind of window.
Stains are naturally inherent in wood. Thus, variations in grain and color patterns may occur.
All Hunter Douglas shutter products are certified by Greenguard, which means they promote indoor air quality and meet your eco-friendly expectations.
Our Palm Beach™ polysatin shutters offer unmatched resilience and are guaranteed to last for good. They are made out of a UV-resistant polysatin compound and the DuraLux™ Finish, ensuring that their look will never change. Additionally, they come in a range of popular whites and offer the following features:

The exclusive polysatin compound allows these shutters to remain in excellent condition even in areas with high traffic, intense moisture, as well as extreme temperature and humidity. These shutters do not require sanding, staining, or painting because of their scratch- and dent-resistant finish. They can function effectively in places you wouldn't even think of putting wood in.
Interior aluminum bracing, major stress point reinforcement, and resin blocks provide increased stability and strength.
They are flame retardants and are fully compliant with NFPA Standard 701/1996.
There are three available louver sizes, the biggest being 4 ½ inches.
They come in three distinct styles. Palmetto™ style has a traditional tilt bar operating system. The Lantana™ style has a proprietary hidden gear system to give you a completely unobstructed view. Finally, Truview™ rear tilt provides a sleek tilt bar design for a contemporary look and an unobstructed view.
They are built to fit any type of door or window covering—even the ones with challenging openings.
You only need mild soap and water to clean them.
They offer 99% UV protection when the louvers are closed.
Palm Beach products are listed with Greenguard because of their mold- and mildew-resistant properties.
These window shadings maximize the power of sunlight, transforming it into a remarkable beauty. Take your pick from a wide variety of fabrics, such as casual linen, woven, and light-dimming materials. A new category of window fashions from Hunter Douglas, Silhouette® window shadings come with the signature
S-vane.
Silhouette® window shadings are made of superior materials and come in different options compared to other brands. Here are some of their noteworthy features:

These window shadings give you privacy and allow you to easily manage light. Simply tilt the vanes to a precise angle that allows the desired amount of light to enter.
Make the most out of daylight by diffusing and dispersing the rays of the sun within the room. With the lights turned off during the day, you get to save a lot of energy and enjoy lower utility bills.
They provide unmatched UV protection without compromising your view. Enjoy 88% protection with the vanes open and 99% protection with the vanes closed. Best of all, the quality of your interior furnishings will be preserved because they won't get hit by direct sunlight.
Apart from their functionality, these shadings add a lot of style to your room. There aren't any tapes or cords that will diminish their elegant look.
These shadings come in a wide range of specialty shapes.
All hardware is color-coordinated—a standard among Hunter Douglas shadings.
They have child safety and ease-of-use features with top-of-the-line lifting systems, including Ultraglide® and PowerRise®.
Our Insolroll® Interior Solar Shades are made of fabrics that can control light without totally eliminating it or blocking your view. Consider them as sunglasses for your windows, reflecting solar heat, blocking 99% of the glare and UV rays, as well as preserving outside views. These solar screen shades effectively filter out the sun while giving you clear visibility.
Our vertical blinds are nothing short of top-notch. Introduce yourself to a whole new world of home fashion with a wide variety of fabric, aluminum, and vinyl styles that come in different textures, colors, and patterns to complement any décor. Some of the features of our vertical blinds include the following:

The Somner Collection boasts of the most complete vertical blind product offering in the market with dozens of fabrics available.
Our vertical blinds are made out of the most exclusive materials. Some patterns have been created with Softex™, an ultra-soft, soundless material. Some are made with Lutex™, a material that complements your room with a translucent sheer look and allows light to penetrate during the day while giving you total privacy at night. Finally, the rest are made of Duotex™, a material that adds a neutral and harmonious tone. Our vast collection features many textures, patterns, and styles that contain fiber and synthetic blends—each having its own level of translucency.
The majority of our vertical blind fabrics are groover-insertable. The PermaClear® vinyl groover provides temperature control, energy savings, and privacy while giving your blinds a rich and soft look. Our blinds are guaranteed to remain clear even with prolonged exposure to the sun.
Somner features three distinct styles of S-curve vanes. Their customized designs make our vertical blinds look extra attractive. These S-shaped vanes can be applied as either a single- or double-tiered dust cover valance.
Our single- or double-tiered dust cover valances come with fabric, wallpaper, aluminum, and vinyl insert options. These insert options not only protect your valance from dirt and dust but also provide light blockage and privacy. We have the Eccenture® custom valance collection that features seven trim colors, including metals, solids, and wood tones. You can also opt for the Crestover™ wood valance. This valance is magnificently contoured and combines the refined look of wood molding and the richness of genuine hardwood. Additionally, this 4 ½-inch valance comes in 10 wood-stained and painted finishes.
Somner vertical blinds can be customized to fit even the most uniquely shaped and styled windows, including angles, arches, sliding glass doors, French doors, as well as bay and corner windows.
The PermAlign head rail provides convenience with motorized vane rotation.
We are proud to introduce the new standard in Roman shades. These shades can be easily managed as they roll up, stack, or traverse side-to-side. You can cover nearly any kind of window because of their lifting systems, styles, and designs. Here are the main features of Vignette® Modern Roman Shades:

The lack of exposed cords or grommets gives these shades a clean look from both inside and outside your house. Also, the rear part of the shades has a smooth and neutral backing.
Choose between Traditional™ soft, billowy, contoured folds in 3-inch, 4-inch and 6-inch fold sizes or Tailored™ crisp, 6-inch flat contemporary folds.
Whether you want a formal or casual style, we have a complete selection of woven fabrics, including EveScape™ room-darkening fabrics. Made of 100% polyester, these fabrics are durable, easy to maintain, and can suit your preferred decorating style. Also, our shades can cover huge windows, with a single panel measuring up to 108 inches wide and 144 inches long.
You'll get a fully integrated and uniform look because our hardware and cords are all color-coordinated. Additionally, the matching fabric-covered head and bottom rails create a top-to-bottom unified look.
We have Accents by the Yard™ vignette fabrics that are perfect for completing a room with matching and aesthetically pleasing decorative accents.
The standard EasyRise™ operating system has a continuous cord loop. In addition, the optional UltraGlide® retractable cord system features a constant cord length and LiteRise® cordless operation that are both easy to use and have child safety features. Lastly, the PowerRise® 2.0 with Platinum Technology® system and other motorization options are also available.
Receive 99% UV protection when the shades are closed.
Our exquisite wood blind collection is recognized for its proprietary contoured and beaded slat edge. Also, it has been accented with a highlighting glaze to create a sharp appearance. Its features include:

Our wood blinds are made of 100% select-grade basswood—the finest quality you can ever find. Also, our refined finish protects them from daily wear and tear caused by fading, moisture, scratching, and chemicals.
The quality of the wood grain is evident with the presence of grain patterns, natural color variations, and distinguished markings. These confirm the authenticity of the wood, as well as the beauty of the blinds.
Decorative tapes can add a complementary color accent to your 2-inch and 2½-inch blinds–a wise design upgrade.
An optional but highly recommended feature, de-Light™ can significantly reduce light leaks and increase privacy. This feature comes in 1 and 3/8-inch, 2-inch, or 2 ½-inch slat sizes.
Take your pick from our standard system that comes with a lift cord or the optional enhanced LiteRise® cordless lift system. These operating systems are not available for 1 and 3/8-inch blinds.
Automate your blinds with the optional PowerTilt™ with Platinum™ Technology systems. These battery-operated, motorized tilt systems can adjust 2-inch and 2 ½-inch wood slats from across the room. Please note that these systems are not available on 1 and 3/8-inch blinds.
Choose between fixed or movable slat styles (2-inch and 2½-inch sizes) to cover most specialty shaped windows.
Provenance® Woven Wood Shades are known for their style and craftsmanship. They are woven by hand from carefully selected natural bamboo, wood, grasses, and reeds. After that, they are textured so that they can add a unique dimension to any room. Here are some of the exceptional features of our wood shades:

Other brands use thin cotton and polyester combination yarns that can easily lose their quality after sun exposure. Provenance® Woven Wood Shades are made of only 100% polyester 5-ply yarns. This material greatly minimizes stretching, breaking, and fading.
Every fabric is woven using multiple yarns (a lot of competitors use only one) for increased strength and durability.
Our wood bamboo fabrics are meticulously engineered to minimize bowing and twisting.
Other brands use unfinished headrails and brass-only hardware. We use stylish, color-coordinated headrails, hardware, and components.
Enjoy the freedom of personalizing your shades by combining various fabric colors and textures. This process is called edge banding. Apart from creating your own unique shade, edge banding helps unify the colors in a room.
Choose from different operating system options. These include clutch-operated shades, continuous cord loop systems, top-down and bottom-up, specialty angle-top (ideal for slanted ceilings), as well as motorized shades.